Meet our Groomer, Veterinary Technician, Kate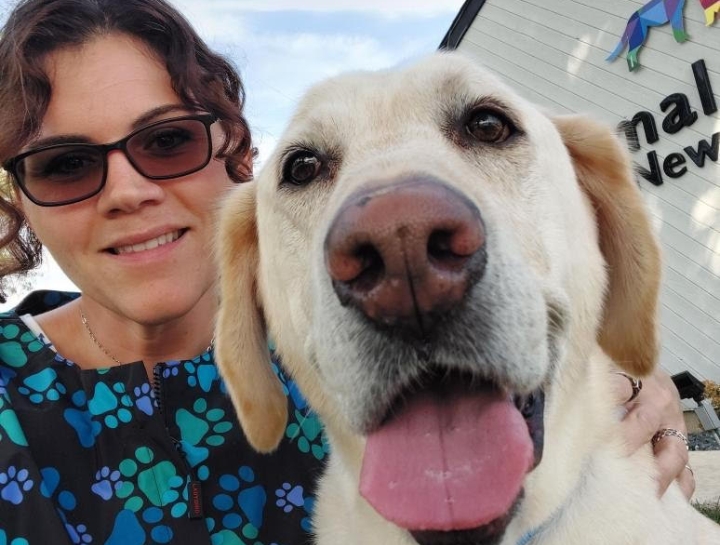 October 5, 2023
We are paws-itively thrilled to announce that grooming services are back at Animal Clinic at New Lenox!
You may already know our Groomer, Kate as she has been a Veterinary Technician at Animal Clinic at New Lenox for some time now. You can get to know Kate better and read her story below!
"It all began in 1998, I was a junior in high school needing service hours. I am an only child and filled the hole with pets, so it seemed like the right move. Well, it stuck. From there I took a job as a kennel attendant at a local vet office, moved up to reception quickly, and then became a "ward nurse" as my old school boss/doctor liked to call it...a fancy term for tech. I applied then to the JJC Vet Tech program, the first year it started but was waitlisted...
Waiting, I watched the hospital groomer spend his days making dogs feel great and walk out happy. I thought "I could do that!" My dad then sent me to the Academy of Dog and Cat Grooming Arts in Arlington Heights. I graduated with a certificate of completion in January of 2002.
I started out grooming for the academy patrons, then shifted to a home shop, this was difficult to start up and maintain, to this day I still run my home business but only do pet sitting. I ended up back at the animal hospital where I started when their groomer had retired. I worked there for about five years gaining knowledge, skills, and technique.
From there I was sought out by a local grooming salon and was asked to manage. I took the job and ran a successful shop for nine years. Then, as it does, life happened and things changed. I took a break from grooming. I ran the Pet Care department at a big retail pet store for a few years but grooming called me back. I was promoted to Salon Manager and ended up running the most successful salon in the district for quite a few years.
Covid brought on many changes and I found myself no longer feeling at peace there. That is when I found Animal Clinic at New Lenox! This work family welcomed me with open arms and has helped me accomplish my dream of becoming a Veterinary Technician. We collaborated to bring grooming back and now I have the very best of both worlds."
For more information about our grooming services, or to schedule an appointment with Kate please call us at (815) 485-4477 and one of our Client Care Specialists will be happy to assist you!